Who should get certified?
Marketers, business owners, CEOs, startup entrepreneurs, students -- anybody who does or aspires to do business online and wants wants to learn how to take advantage of the most effective marketing method.
What is the Inbound Certification and what will I learn?
HubSpot's Inbound Certification is a free marketing training course that covers the fundamentals of the Inbound Methodology.
Inbound Certification classes teach you the pillars of inbound as it's practiced today. Optimize your website create landing pages that convert, close sales the inbound way, and more.
Why get Inbound certified?
The primary reason to get certified is simple: inbound grows businesses. The knowledge gained from getting Inbound certified will help you kickstart your organization's growth, and scale your business rapidly and effectively -- and boost your skill set.
You'll also:
Learn the fundamentals of Inbound
Enhance your professional credentials and expand your growth opportunities
Join a global community of inbound practitioners
Enjoy free learning at your own pace
What are others saying about the program?
"VERY HELPFUL!!! Those all caps are intentional. I'm yelling about it....inside. Thanks for putting this together. This content is exactly what I need right now." - Josh C
"Loved it! Finally, an easy-to-understand explanation of exactly how, and why, to optimize my website for SEO. I learned an incredible amount in just 20 minutes." - Lisa
What do I get after I pass?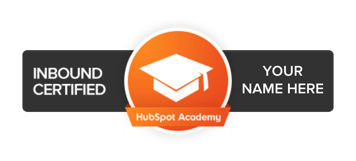 After passing the exam, you'll receive a personalized badge and certificate that you can display in a multitude of ways. Add your badge to your website, email signature, LinkedIn profile - or print out your certificate and proudly hang it on your desk.